Are you looking into commercial roof coatings to see if they can help your property? Chances are, they can. In a nutshell, these coatings are capable of extending a roof's life by 10-20 years, and save about 50-70% the cost of a roof replacement. At Draper Construction & Commercial Roofing, our goal is always to do the best we can for your roof while saving you money, and roof coatings are a great way to do just that on all types of properties.
Commercial roof coatings
Great value, save thousands
Call (817) 581-4929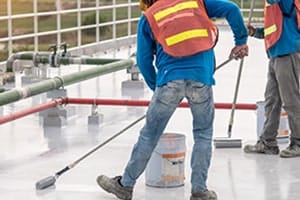 As a fully licensed and insured commercial roofing contractor in Dallas/Fort Worth, our team will give you full peace of mind about your property. We even offer NDL (no dollar limit) warranties on our commercial roof coatings, in 10, 15 and 20 year increments.
The types of roof coatings we offer include:
As always, our estimates are free of charge and come with no obligation. We invite you to give us a call today to schedule yours, and find out why our slogan is "Happy To Do It!"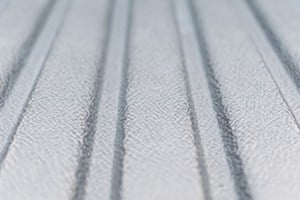 Flat Roof Coatings
Flat roofs can often benefit greatly from a roof coating. Due to the unavoidable nature of a roof being flat, they have specific challenges that tend to subject them to wear and tear as a result of ponds and standing water. Rather than go through with a tear off and re-roof, find out if your building could benefit from a roof coating. It has minimal disruption to your daily operation. It can lower your energy bills by as much as 30%, and requires very little maintenance. Options include silicone, acrylic, and polyurethane roof coatings.
Coating for Metal Roofing
Protect your metal roof against leaks, extreme heat, and make rust a thing of the past with a cutting edge coating. Available on standing seam, corrugated and metal tile roofs, you will notice a difference in its durability and energy efficiency right away.
Benefits of Roof Coatings
No property owner counts down to the next roof replacement. With a roof coating, you can often put the inevitable off for another 10, 15 or even 20 years. Some buildings are even able to to get another coating at that point!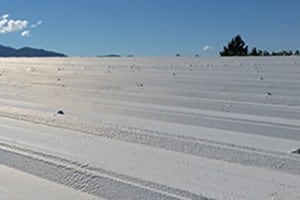 With the savings in energy, these coatings can pay for themselves over time, often after about 7 years, leaving you with another 3-13 years of savings.
The application is quick and relatively distraction-free for your employees or tenants. Find out if your property is a prime candidate for a roof coating by giving our offices a call today.
With several years of service to our community, Draper Construction & Commercial Roofing is a roofing contractor you can count on for your roof repair, coatings and restorations. Great service, affordable prices, and incredible value are always delivered with a smile!
Find out how much you can save
Get your free estimate now
Call (817) 581-4929
We apply commercial roof coatings in Dallas, Fort Worth, Irving, Garland, Richardson, Mesquite, Grand Prairie and throughout Texas.