With a flat roof coating, we can breathe new life into your roof, allowing you to keep the same structure for another decade, or longer. Don't replace it prematurely, call Draper Construction & Commercial Roofing to find out how commercial roof coatings can give you all the benefits of a new roof for much, much less.
Add longevity for a great value
Get an estimate on a flat roof coating
Call (817) 581-4929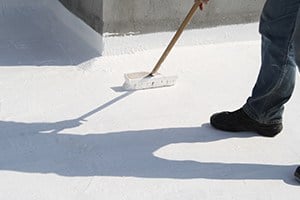 Our team is committed to customer satisfaction, and we always deliver with a smile. That's why our slogan is "Happy To Do It!" You'll notice the difference our staff bring to the table right off the bat. We truly love what we do, and working with great customers like you makes it even better!
We'll never try to sell you a roof replacement you don't need, and will look for ways to salvage your existing roof. Roof coatings are one of the most effective and affordable solutions to do just that, and are able to be used on a wide variety of commercial roofing in Dallas/Fort Worth, including office parks, shopping malls, plazas, and standalone buildings.
Flat roof coatings can be applied to all types of materials as a form of roof repair, including:
BUR
EPDM
TPO
Modified bitumen
Spray foam roof (SPF)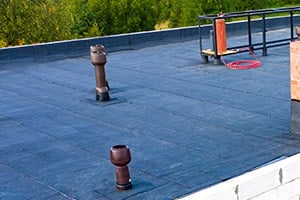 Benefits of Flat Roof Coatings
Why get a flat roof coating? What commercial or industrial property owner doesn't want to save money? Not only can you extend the life of your roof and put off that roof replacement for another 10 or more years, but you can also make an energy efficient option that could lower your energy bills by as much as 30%. That means your flat roof coating could pay for itself in a matter of years.
They also apply quickly, don't disrupt your business' daily operation as a replacement may, prevent ponding and stop future leaks. Find out if you can take advantage of these benefits and more by reaching out to us for a free on-site estimate today. We are the roofing contractor you've been looking for!
Don't replace it too early!
You can get more out of your roof
Call (817) 581-4929
We apply flat roof coating in Dallas, Fort Worth, Irving, Garland, Richardson, Mesquite, Grand Prairie and throughout Texas. Call us today for a free estimate!