Looking at spray foam roofing in Dallas/Fort Worth to bolster your commercial roof and add years to its life? Smart choice! Extremely durable, lightweight and affordable, SPF is a great addition for many of our roofing clients. We offer free on-site estimates and would be happy to help you determine your best option at defending your property against leaks and damage for the long haul.
Get an estimate on spray foam roofing
Call our office today
(817) 581-4929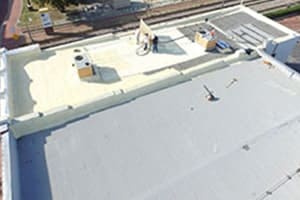 As a commercial roofing contractor who has been serving our community for more than two decades, we have serviced hundreds and hundreds of roofs with commercial roof coatings and can help you determine if spray foam roofing is the best choice for yours.
Peace of mind is always included in our services. Not only do we offer NDL (no dollar limit) warranties for 10, 15 & 20 years, our staff are fully licensed and insured. Check out our profile on the BBB, read some of our many positive reviews, and schedule your free estimate today.
Benefits of Spray Foam Roofs
There are many reasons to choose spray foam! It can be applied when you first install a new roof, and also later on, as the roof starts showing signs of aging.
Polyurethane roofing is applied as the name implies. By being sprayed atop the existing roofing material. This highly expansive material increases in volume as it dries, up to 50 times its original size. It coats everything it touches. Forming a sealed barrier that has no joints and no seams, keeping moisture out across the entire surface.
The material itself is quite resistant to changes in weather. It's able to resist cracking and other damage that often comes with thermal expansion.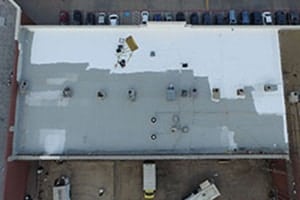 The price point on spray foam roofing is also hard to beat!
With little to no disruption of your normal activities, the application process is quick and much easier than a roof replacement or other types of roof repair.
With a long lifespan, an attractive price tag, and great benefits for your property, you won't go wrong with spray foam. Contact our team of experienced pros. We are ready to answer all of your questions and help you find the best fit for your needs.
Find out if spray foam roofing
Is right for your property
Call (817) 581-4929
We apply spray foam roofing in Dallas, Fort Worth, Irving, Garland, Richardson, Mesquite, Grand Prairie and throughout Texas.