Are you looking for expert service for your flat roofing in Dallas/Fort Worth? We offer top-quality commercial roofing service at a great value to our customers. With free estimates on our roof repairs, restoration, replacements and coatings, you'll know exactly what to expect from our roofers from the get go. Get started by calling our team now.
Need flat roof repair?
Expert roofers, ready to help
Call (817) 581-4929
Our staff are highly experienced in all types of flat roofing material, including:
EPDM
TPO
Built-up roofing
Modified bitumen
Spray foam roof (SPF)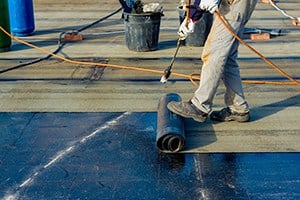 If you're looking for a commercial roofing company with a great reputation who will do a fantastic job on every job, give us a call. Let leaks be a thing of the past! We will make sure you get the level of protection your property requires with a cost-effective service that fits your needs.
Flat Roof Repair
When it's time for flat roof repair, turn to the roofers who have more than two decades of experience working on commercial properties like yours. Our team is ready to come to your aid and make sure that leak is stopped before it turns into something even bigger.
Your roof is protecting your business, merchandise, tenants or employees. These are your biggest assets and a recurring leak can mean serious damage to any of them. Our roofers really care about making sure you are covered, and offer long-lasting repair services like roof coatings with excellent warranties that will give you peace of mind for another decade or more.
New Flat Roofing Installation
We know you have a lot of choices for roofing contractors when it's time for a new flat roofing installation. We hope to earn your business through our high quality workmanship and our reputation of leaving great work in our wake. At Draper Construction & Commercial Roofing, our slogan is "Happy To Do It" and that shows in the way we approach our customers on every single project. We love what we do, and are proud to offer top quality services for a great value.
When it's time to install a new flat roof on your industrial or commercial property, give us a call. We'll start with a free on-site estimate and let you decide where to go from there.
Experts in all facets of flat roofing
Call for free estimate
(817) 581-4929
We service commercial flat roofing in Dallas, Fort Worth, Irving, Garland, Richardson, Mesquite, Grand Prairie and throughout Texas.