Your industrial roofing in Fort Worth needs to be handled by a competent team who knows how to care for it. That's why with Draper Construction & Commercial Roofing, peace of mind is always included. In business for more than two decades, we have extensive experience with all types of commercial roofing, and are proficient with roof repair, replacement, restoration and coatings. Our on-site estimates are always free, and we offer no dollar limit (NDL) warranties on all of our work.
Repair, replace, restore, we do it all
Get your free estimate scheduled now
Call (817) 581-4929
With high quality workmanship, customized services to meet any need, and affordable rates, we're confident you'll be glad you chose our team for the job. Let us keep your biggest asset protected, no matter what Mother Nature throws at it.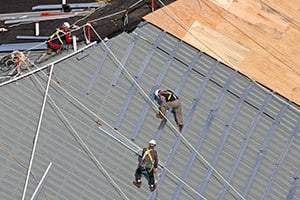 We work on all types of industrial roofs, including:
Metal roofs
Flat roofs
Asphalt BUR (built-up roofing)
Tar and gravel
Modified bitumen
Single-ply roofing
EPDM roofs
TPO roofs
PVC roofs
EPDM roofs
Industrial Roofing Repair & Coatings
Roof leaks happen. It can be from wear and tear, poor workmanship, or one of our intense hail storms. How you handle the damage is what counts. There are unfortunately a lot of roofing contractors who will take a look at the damage and try to sell you a new roof before you need one. Our aim is always to save your existing roof wherever possible. One of the most successful ways this is done with industrial roofing is through roof coatings.
What is a roof coating? It's essentially another layer of flexible material that goes on top of your existing roof (metal, flat, single-ply, all types of commercial roofs), that makes it look and act like new again. Rather than having to remove the existing roofing material and build a new roof all over again, this material can be applied on top of what's already there, preventing leaks, cracks, and further damage.
We find that these coatings are a great alternative to traditional roof repair for many industrial clients as it isn't a temporary patch. They are engineered to add another decade or more of useable life to your industrial roof, and cost just a fraction of what a new roof would.
Have questions about whether a coating would be right for your roof? Give us a call to ask us anything you'd like!
Why replace when you can coat it?
Find out about your options now
Call (817) 581-4929
We service industrial roofing in Dallas, Fort Worth, Irving, Garland, Richardson, Mesquite, Grand Prairie and throughout Texas.