When you need help with your metal roofing in Dallas/Fort Worth, turn to the experts at Draper Construction & Commercial Roofing. With more than 20 years of experience, our team has worked on hundreds of metal roofs. We have the experience to treat yours right. If you're looking to repair a leak, interested in how to restore your roof to its original condition, or think it's time to replace it entirely, our roofing contractors will make sure you get taken care of with a smile.
Expert restoration & repair services
Highly experienced in metal roofs
Call (817) 581-4929
Standing seam roofs, metal tiles, corrugated, or R-panel, we've repaired, installed and restored them all! As a leading commercial roofing contractor, we know you expect great service at a fair price, and our staff are always "Happy To Do It."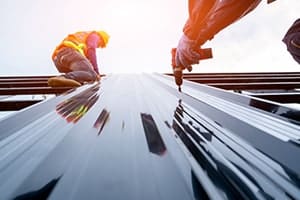 Metal roofs are the most durable and long-lasting roof type on the market today. They make an excellent choice for many types of industrial roofs and commercial properties. We work on facilities of all types and sizes, from smaller single buildings to large plazas and complexes.
Metal Roof Repair
It is imperative to keep your metal roof in good condition throughout its life so as to maintain its structural integrity. If you notice a tear, a leak, or a split in the seam, contact our team right away. Our roof repair services are geared at maintaining the quality and extending the life of your roof. We can often put off a replacement for a decade or longer.
The solutions we present are geared at controlling future issues and saving you money both now and in the long run. All of our services start with a free on-site inspection. You can schedule by reaching out to us at your convenience.
Metal Roofing Installation
Looking to install metal roofing on a new building? We'll make sure you get top of the line service for fair rates, and that it's done right the first time. Whether the building is for your own business, or to rent out to tenants, we understand that its roof will be protecting your largest investment. We apply the latest techniques to ensure you and your business are fully covered for decades.
With an A+ rating on the BBB and thousands of happy customers as our legacy, we're confident you'll be glad you chose us for your metal roofing project. Fully licensed and insured with fantastic warranties available. Peace of mind is always included in every job we do.
When it's time for a new metal roof
We'll take care of you
Call (817) 581-4929
We service commercial metal roofing in Dallas, Fort Worth, Irving, Garland, Richardson, Mesquite, Grand Prairie and throughout Texas. Call us today for a free estimate!