Do you need roof damage restoration in Fort Worth for your commercial property? You're on the right site. If your roof has suffered damaged from a storm, or simply excessive wear and tear, we can help. Our skilled roofing contractors will work to salvage your existing roof rather than replace it through restoration techniques that save thousands. Call us today and schedule your free estimate to find out more.
Roof damage restoration
Fast service, good quality, fair prices
Call (817) 581-4929
Depending on the type of material, you might be expecting a lifespan of 10-50 years out of your roof. Just because your roof has been damaged doesn't mean it's time to replace it just yet. We do get some intense storms in the DFW area, but if the hail, wind or debris has punctured or torn your roof, reach out to our commercial roofing experts today for fast roof repair done right.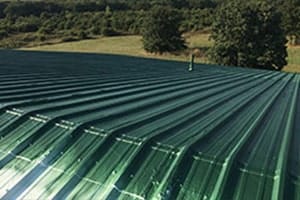 As a leading commercial roofing contractor, we have helped countless businesses and property owners to extend the life of their damaged roof with a roof coating that helps protect it against the elements, renewing it for another 10 years or more.
One thing is for sure: waiting won't make it better. If you need roof damage restoration, starting the process sooner rather than later will give you the best chance at avoiding a replacement.
Metal Roof Damage
Metal roofs are fantastic for many reasons. They can also be one of the most costly to install or replace. If your metal roof is leaking or is showing warning signs like visible tears, punctures, etc., roof damage restoration might be a better option for you.
Not only is it much easier on the wallet (we're talking 50-70% less than a roof replacement), it can even help make you more energy efficient, lowering your energy bills. Plus, without the need for a tear off, you're keeping that much more waste out of your local landfill, which also helps the environment. All around, restoration is a smart move! To get a no-charge, no-obligation estimate on metal roof restoration, give us a call.
Storm Damaged Roof
After a storm rolls through the DFW area, call Draper Construction & Commercial Roofing to schedule your inspection, fast. Sometimes you may notice minor problems with your roof after a storm that can turn into much bigger problems if you wait to get them addressed. Our storm damage restoration services take the hassle out of getting your roof fixed.
Our insurance restoration specialist will make sure you are fully taken care of. From start to finish we will keep you apprised every step of the way. When it comes to roof damage restoration, we've got you covered!
Don't trust your roof to just anybody
20+ years experience, restored hundreds of damaged roofs
Call (817) 581-4929
We provide roof damage restoration in Dallas, Fort Worth, Irving, Garland, Richardson, Mesquite, Grand Prairie and throughout Texas. Call us today to schedule a free estimate!