We provide roof replacement in Dallas/Fort Worth to commercial properties of all types, and sizes. If your facility's roof is nearing the end of its life, give us a call to find out if we can either salvage it and add more years to its service, or get you a free quote on a new roof. At Draper Construction & Commercial Roofing, we're always "Happy To Do It" and our many 5 star reviews speak for themselves. Reach out today for more information.
Commercial roof replacement
Great quality, fair prices
Call (817) 581-4929
We replace most types of commercial roofing, on all types of structures,including:
Flat roof replacement
Metal roof replacement
EPDM roofing
Single-ply roofing
Modified bitumen roofs
TPO/PVC roofs
Do you already know which type of roof you're looking to install? If not, our team will gladly walk you through your options, depending on what your key goals are for the roof replacement. We can help you find what you're looking for, balancing longevity, durability, energy efficiency, and cost.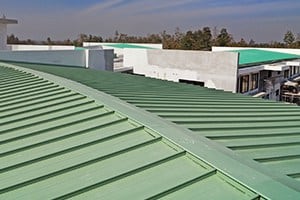 We are proud to be in the 1% of commercial roofing contractors who can say we have a commercial roof endorsement. With more than two decades in business, and a fully licensed and insured team, you can relax with full peace of mind that your property will be well-protected for many years to come. Be sure to ask about our NDL (no dollar limit) warranties that can last for up to 20 years!
Metal Roofing Replacement
Metal roofing is a wonderful choice for many properties. With incredible durability and longevity, it is an attractive choice for a lot of building owners. It is also very particular, and should only be trusted to those with a proven record with it. Check out some of our many great reviews online and see our results for yourself! With an A+ rating with the BBB and thousands of satisfied customers over the past two decades, we're confident you'll be glad you chose Draper Construction & Commercial Roofing for your metal roof replacement.
We offer standing seam, corrugated metal and metal tile roof options. Find out which would be best for your property by giving us a call today.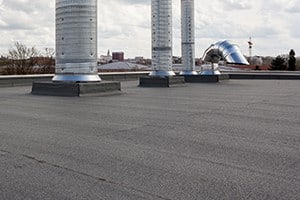 Flat Roof Replacement
A roof only has so many years of service to give you. Oftentimes we are able to save your existing roof and extend its life substantially, at a savings of 50-70% as compared to a replacement. But once it is beyond repair, our team will be happy to give you a new flat roof to keep your property secure for the next decade or more.
Replacing flat roofs is something we are very experienced with! If you want a job well done at a fair price, and done with a smile, give us a call.
Replacing flat roofs, metal roofs, and more
Get your free estimate scheduled today
Call (817) 581-4929
If you need a commercial roof replacement in Dallas, Fort Worth, Irving, Garland, Richardson, Mesquite, Grand Prairie or throughout Texas, call us today for a free quote.