Do you need a roofing contractor in Dallas/Fort Worth to repair or replace your roof? We offer affordable commercial roofing services for all types of properties and structures. When you need professional service done right the first time, you can count on Draper Construction & Commercial Roofing. Contact us now to set up your free on-site estimate.
Over 20 years of experience
Get top-notch work for a fair price
Call (817) 581-4929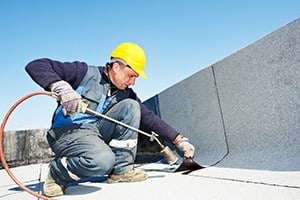 Commercial Roofing Contractor
As a leading commercial roofing contractor with more than two decades in the business, you can bet our team has seen - and fixed - it all! Large-scale hail damage, impossible-to-find leaks, ponding water, and everything in between.
We work on all commercial roof types, including:
Flat roofs - These roofs often suffer from ponds and the leaks that accompany them. Let our roofers show you how to get your money's worth out of your flat roof and keep it in good condition all year long.
Metal roofs - We do extensive work with metal roofing and can repair, replace or install it on your commercial property of any size; smaller standalone buildings, large plazas, or somewhere in between.
Built-up roofing - With a lot of eye-catching benefits (like incredible waterproofing, fire-resistance and requiring little maintenance), many commercial properties are equipped with BUR. If yours needs to be repaired, we will work to extend its life and save you money.
Single ply roofing - We repair and replace both common types of single-ply roofing, TPO/PVC and EPDM. In use in the states for more than 60 years, these are a proven choice for those looking for longevity and can be highly energy efficient, helping to reflect the rays of the sun.
EPDM roofs - Rubber roofs are a great choice for many low-slope roofs, are highly cost effective, and can even help make your property more eco-friendly if installed in white, which can help lower energy costs. As an experienced roofing contractor, our team can repair or replace your EPDM roof.
Modified bitumen roofs - Another cost-effective choice, many businesses feature modified bitumen roofs. The lifespan for this material is generally around 10 years, but our repair techniques can extend this in many cases.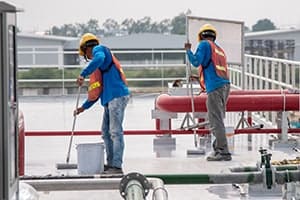 Roof Repair Contractor
All roof lives come to an end. Our goal as a roofing contractor is to push that day out as far as possible for your structure. Through innovative technology that does more than just give you a temporary patch. We can give you a long-term solution to repair your roof and add years to its useful life.
We have affordable solutions for all types of commercial roofing. Reach out to our caring team today to set up your obligation-free estimate.
We've got you covered
Get your free estimate now
Call (817) 581-4929
Call us when you need a commercial roofing contractor in Dallas, Fort Worth, Irving, Garland, Richardson, Mesquite, Grand Prairie and throughout Texas.