We replace, repair and restore TPO/PVC roofs for commercial and industrial customers throughout Fort Worth and surrounding areas. With more than two decades in business, our roofing contractors have seen every type of roof issue out there - and fixed them all! Give us a call to get your free on-site estimate underway.
We can handle your roof
Repairs, replacements, we do it all
Call (817) 581-4929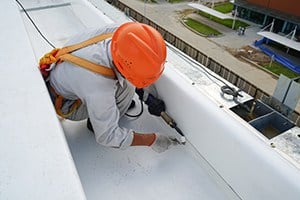 When you choose Draper Construction & Commercial Roofing for your TPO/PVC roof, we will come out to your property to do a visual inspection and give you an on-site estimate for starters. With a full assessment of your roof's current state, and what it will take to repair, restore or replace it, we can provide you with all of your options and let you make your decision on how to move forward.
One thing that's great about TPO/PVC roofs is that they are both made from flexible materials that allow them to expand and contract with the changes in weather, and any settling your building does over time.
These two materials do have their differences, and we'll help you figure out which one would be right for your property, and we'd be "Happy To Do It".
TPO Roofing System
Thermoplastic olefin, or TPO, roofs are increasingly popular with commercial properties, and those with flat roofs. Lightweight and energy efficient, TPO can be a great option for those seeking 10-20+ years out of their roof, and especially those who don't have much foot traffic on top of their building. It is one of the most affordable types of commercial roofing, both in outlay and in energy savings over time.
A TPO roofing system is installed by applying the membrane of material overtop of a cover board which is atop the insulation. Any overlapping seams of the membrane are fused together with a hot air gun and sealed off. This is one of the thinnest materials on the market which is great for structures that can't hold a lot of weight, but we wouldn't recommend applying it on a roof that gets a lot of visitors.
PVC Roofing System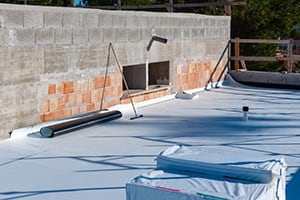 Polyvinyl chloride, or PVC, is a very durable material that is popular for commercial roofing structures for good reason. As it is available in several thicknesses, it can be better at resisting cracks and other signs of wear and tear, allowing it to have a lifespan of 20 years or more.
PVC is often chosen for flat roofs, but it is worth noting that it cannot be used in an environment where asphalt is present, so if you are re-roofing your facility and don't plan on removing the asphalt on an adjoining section, PVC would not be a good option for you, but TPO could be.
We are a roofing contractor with decades of experience in TPO/PVC roofs, and can repair, replace or restore yours with great results and at a fair price. Give us a call to get started.
Free on-site estimates
Great service, done with a smile
Call (817) 581-4929
We service TPO/PVC roofs in Dallas, Fort Worth, Irving, Garland, Richardson, Mesquite, Grand Prairie and throughout Texas.