Instead of replacing that damaged roof, why not take advantage of metal roof restoration for commercial roofing? While many Fort Worth roofers may tell you that there's no hope for your leaking roof, our roofing contractors use revolutionary technology that can extend the life of your roof by another 10 years or more. Start by getting a free estimate and see how affordable metal roof restoration for commercial roofing can be.
Don't replace too early
Commercial roof restoration works
Call (817) 581-4929
Is your metal roof torn, leaking, or pulling away at the seams? The hail storms & inclement weather we are prone to in the DFW area can wreak a lot of havoc on roofs, and our team knows exactly how to fix them with roof restoration techniques.
What Can I Do For My Damaged Metal Roof?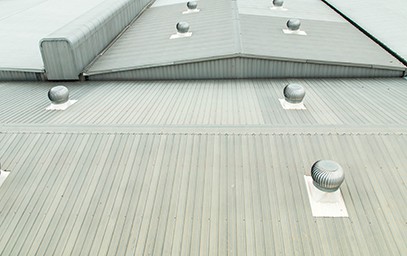 Just because your roof is torn, punctured, or showing wear and tear doesn't mean it's destined for replacement. The team at Draper Construction & Commercial Roofing can show you what you can expect with roof restoration. Once the damage has been assessed, our roofers will come up with a plan for total restoration, making your roof like new again, at a fraction of the cost.
By utilizing the incredibly versatile technology of roof coatings, your roof will be completely sealed off and protected against the elements for many years to come. These roof coatings are attractive, energy efficient, and quite durable. Your roof will be ready to go against just about anything Mother Nature can bring - wind, hail, flying debris, and the beating sun. Rust, extreme heat and water will be kept out of your structure once your metal roof has been restored.
At just a fraction of the cost of a new roof, your property can experience the benefits of a brand new roof, without the tear-off or disruption to your business. Reach out to our team today to schedule your no-obligation estimate.
How Long Should My Metal Roof Last?
Whereas other types of roofing, like asphalt, tend to last for maybe 10 or 20 years at the most, metal roofs are made to protect your property for decades! Many types of metal roofing can last as long as 40 or even 70 years.
Standing seam - these roofs are usually meant to last a lifetime.
Aluminum or steel shingle - can generally be expected to last 50 years or more.
Copper or zinc roofs - these roof types generally have a lifespan upwards of 100 years.
There are many benefits to having a metal roof, such as the durability, energy efficiency and environmentally-friendly aspects, and the fact that they will not ignite or catch on fire, and are generally deemed safer than other roofing materials.
If you're not ready to say goodbye to your existing metal roof yet, reach out to see how we can help! We offer metal roof restoration for commercial roofing in Fort Worth, Irving, Garland, Richardson, Mesquite, Grand Prairie and throughout Texas.