Selecting a roofing system for your commercial property is one of the most important decisions to make to protect your investment, and many factors will go into deciding which is the right fit for it. Learning the pros and cons of your commercial roofing system can help make the selection process easier.
Metal Roofing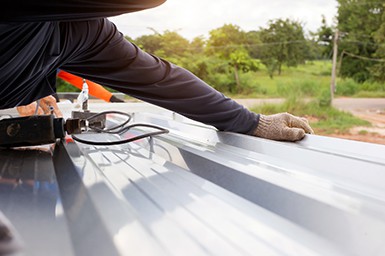 PROS: The main advantage of most types of metal roofs is their durability and longevity. Many metal commercial roofing systems can last as many as 50 years or more when properly installed and well-maintained. Often, property owners can customize their metal roof's look through either paint or a roof coating, allowing them to get the exact appearance they want for their structure.
With metal being fire-resistant and highly resistant to the elements (like wind, rain, and snow), you will have added peace of mind with a metal roof.
CONS: Metal roofs require routine maintenance to stay leak-free and help maximize the lifespan of your investment. Another point to consider with metal roofs is how much foot traffic does your roof get? Metal roofs don't tend to hold up particularly well when walked on, denting from the footsteps. If you have HVAC units atop your building, you likely have technicians up there regularly, and you'll need to discuss that with your roofer to make sure a metal roof is a right choice for you.
Metal roofs with exposed fasteners can require more care, as those fasteners are prone to become weakened by exposure to the elements. The more vents, pipes, etc., a building has on its roof, the more penetration points, and the more chances for leaks.
Ultimately, metal roofing can be a great investment and are a popular choice for commercial roofs if you're looking for a long-lasting option and you don't mind taking care of it along the way.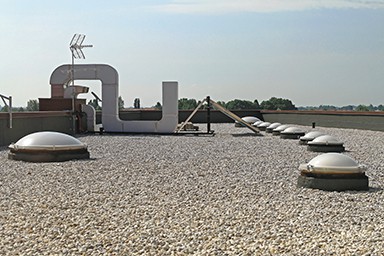 BUR ROOFS (BUILT-UP ROOFS)
PROS: Built-up roofs are very common among commercial properties; they're the roofs that are installed by layering asphalt and tar and topped with small stones or gravel. The installation process is pretty easy, and the price point is one of the most attractive aspects of BUR.
Since the top layer has no seams or joints like a metal roof, they are highly waterproof and better equipped to handle foot traffic than many metal roofs. Built-up roofs can also last as long as 30 years or more and are considered a low-maintenance option, not often requiring a lot of special care.
CONS: As far as disadvantages to selecting BUR, they're not the most aesthetic option, and for properties where you're going for a certain look, this might not be the way to achieve it. They do better in warm or mild climates, but their inflexibility isn't the top choice for cold weather climates.
The roof itself is very heavy, and not all buildings can withstand the extra load without reinforcing the structure. Another con to consider is the installation process itself can be quite heavy on the toxic fumes. If you are planning to conduct business still or have tenants in the building while the roof is being redone, it might be distracting.
Overall, built-up roofs are a tried and proven commercial roofing system that is dependable, affordable, and long-lasting.
SINGLE-PLY ROOFS (PVC, TPO, EPDM)
PROS: Single-ply roofs are often made from rubber or plastic compounds, and as such, are quite lightweight and don't put a lot of stress on the building. They also tend to be the most affordable commercial roofing system
CONS: as you would expect, they aren't the longest lasting. While the initial price point can be attractive, you'll want to weigh that with the likelihood of leaks or wear and tear showing within the first 5-7 years or so. Being single-ply, they are easily damaged by foot traffic or can be punctured by debris.
When you're weighing your options and the pros and cons for your commercial roofing system, let Draper Construction & Commercial Roofing help you make the right choice for your property.