Do you want to deal with the hassle of roofing insurance claims on your own? That's what the pros at Draper Construction & Commercial Roofing are here for. As insurance restoration specialists in the Dallas/Fort Worth area, we take care of all the details for you, making sure your property stays protected, and you get what your policy owes you. Schedule your free inspection now by calling our team.
Storm damaged your roof?
Don't wait - schedule an inspection now
Call (817) 581-4929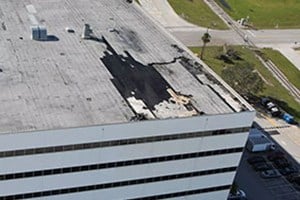 Let's face it, dealing with commercial roofing insurance claims isn't on anyone's wish list. Luckily for the businesses in the DFW area, Draper Construction & Commercial Roofing has a team of professionals who are ready to take the tough stuff off your plate. You have more to worry about than your damaged roof! We will go to bat for you, ensuring your roof gets repaired and you can get back to business.
With more than 20 years of experience in the industry, we are an A+ rated commercial roofing company with the BBB and have thousands of satisfied customers to show for it. We love providing great service at a fair value to our clients, and it shows! That's why our slogan is "Happy To Do It!"
Commercial Roof Damage Claims
With the frequent storms in our area, you need a trustworthy specialist on your side to handle the roofing insurance claims for you. With several certified staff on our team, we'll work with your insurance company to ensure the process is smooth, and save you as much money as possible.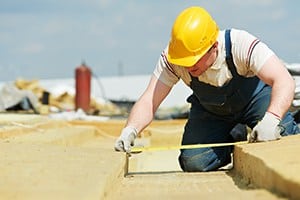 Once we inspect your property and isolate any damage from the storm, we will work with the insurance adjuster every step of the way, keeping you in the loop all along. The thing about storm damage is that even minor damage can turn into a larger problem down the road.
If it isn't found until later, it likely won't be covered under your insurance policy at that point. That's why it's always better to just get it checked out as soon as possible, and ensure you are covered from the get go.
Whether it's the hail, the wind or the debris that's hammered your commercial roof, our team of roofing contractors knows exactly how to find the damage, and how to fix it. We are skilled with replacing, repairing and restoring roofs on all types of commercial properties, including large plazas and complexes to smaller properties, and everything in between. We work on flat roofs, metal roofs, BUR or tar and gravel roofs, single ply roofing, including TPO and EPDM.
Insurance restoration specialists
Let us handle the hard part for you
Call (817) 581-4929
We handle roofing insurance claims in Dallas, Fort Worth, Irving, Garland, Richardson, Mesquite, Grand Prairie and throughout Texas.