Draper Construction and Commercial Roofing is only 1 in 12 accredited companies in America with the Spray Polyurethane Foam Alliance (SPFA) Professional Certification Program (PCP) Certification.
Hiring an accredited roofing contractor with this specialized professional certification makes all the difference in:
Warranty
Professionalism
Cost
Experience
Time frame of service
Attention to detail
This certification provides more legitimacy, trust, and knowledge as a roofing company and allows more roofing services to people who need assistance getting their roof to hold up to wear and tear while also looking its best.
What is the Spray Polyurethane Foam Alliance (SPFA) Certification?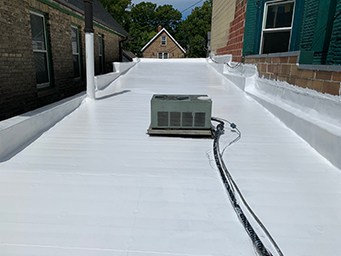 The SPFA Certification is newly developed over the recent SPFA accreditation program. This professional certification program provides an array of categories and achievements to implement quality servicing in the spray foam roofing establishment.
This program focuses on accrediting professional contractors in order to provide proper insulation and roofing.
Each position in this certification process requires a thorough and rigorous assessment in order to achieve a higher level of certification and provide top quality spray foam roofing services.
Achieving professional certification with the SPFA program ensures the roofing contractor will provide excellent and proper service for spray foam roofing needs. This sets Draper Construction and Commercial Roofing apart from other companies who are uncertified.
How is Spray Foam Roofing Applied?
Spray foam roofing is applied directly on top of the existing roof material, or it can be applied when you first install the roof.
While drying, it can expand up to 50 times larger than it was when initially applied. When the foam material is completely dry, it forms a sealed barrier across the entirety of the new or existing roof.
Depending on the amount of spray foam that is applied to the roof, as well as the type of foam and quality of coatings applied over the foam, it can generally last for decades after the initial application.
Spray Foam Roofing and Other Services
In addition to spray foam roofing, our team of experts at Draper Construction & Commercial Roofing also provide additional services to get your roof looking its best, such as:
Flat, metal, and elastomeric roofing coating
Roof repairs
Full roof replacements
And more
To find out more information about the services we provide, give us a call at (817) 581-4929.