If you own or run a business, you understand the importance of maintaining your property; this includes making sure your roof is in optimal condition. One of the easiest ways to do this is by regularly scheduling roof maintenance and considering a roof coating if you don't already have one. Nevertheless, many times this gets away from us in dealing with the demands of day-to-day work.
If you are concerned that you have been neglecting the upkeep of your roof, contact us for a free examination and estimate.
Telling Signs of Roof Damage:
Cracking or Blistering
Take a quick glance for unexplained cracks, bubbles, or blisters on your roof's surface. This can indicate that there may be pockets of air or moisture trapped between the roof membrane and deck or between layers of the membrane itself. This could potentially worsen over time if left untreated, leading to more serious problems.
Mold and Odor
If you are noticing unexplained musty odors or notice visible mold inside of your commercial property, seek professional help as soon as possible. Not only might this indicate a roof leak, but it can be potentially dangerous for you and your employees if left untreated.
Sagging or Stains
Inside of your commercial property, regularly be on the lookout for stained or damaged ceiling tiles, watermarks, or bulging patches on the ceiling interior walls that can indicate water damage from a faulty roof. Similarly, a sagging ceiling can also be a sure sign that your roof needs to be looked at and repaired.
Standing or Pooling Water
It is normal to have some existing ponding water after rainfall or a particularly heavy storm. However, if it is still there after 48-72 hours, it may indicate a larger roof or drainage problem. If left untreated, this can seep into your building, lead to leaks, and weaken your roofing system overall.
Clogged Drains
It is crucial to ensure your roof is draining properly, as clogged drains can contribute to pooling water and further roof damage. You can do this by inspecting the exterior downspouts during rainfall.
How Draper Construction Can Help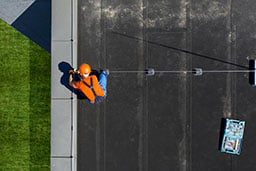 We Provide Professional AssistanceAlthough it is beneficial to be on the lookout for signs of commercial roof damage yourself, it is highly recommended to have a professional, certified roof repair company on call. That's where Draper Construction comes in.
Not only can we conduct proper inspections and repairs, but our experienced contractors can also assist in recommendations for damage your roof has already sustained. In addition, we will work with you to offer the best options for your budget, property, and unique circumstances, all while ensuring proper plans and permits to keep you and your employees safe.
Roof Coatings
We also specialize in roof coatings, which may prevent roof damage before it even begins.
Roof coatings can provide you with the following advantages:
Quick and easy application that is relatively distraction-free
Postponing roof replacement for 10-20 years
Energy-saving capabilities that save you money in the long run
Contact Us
Let Draper Construction and Commercial Roofing take care of your roofing needs. Don't wait until there are substantial roofing issues before acting, be proactive and call us today at (817) 581-4929 to receive a free examination and estimate.