When you need a reputable roofing company in DFW or surrounding areas, look no further! Our family owned and operated company has been providing top notch roofing services to home owners in the Dallas – Ft. Worth area for over 20 years. We've built a great reputation based on our integrity, reliability, honesty, and exceptional customer service. Our certified roofers specialize in repairing and replacing shingle and flat roofs on all residential properties. Call us today to get a free estimate on any of our services. We will meet and exceed all your roofing needs!
Family Owned & Operated For 20 Years
Quality Workmanship at Competitive Prices
(817) 581-4929
Residential Roofing Services
Our company offers a comprehensive range of roofing services for our customers. As a local roofing contractor in DFW, we know that you take pride in your home. When you make the decision to invest in a new roof, or are in need of a repair, you want it done right the first time.
We offer the following roofing services to best suit your needs:
Roof Repair
Roof Replacement
Shingle Roofing
Flat Roofing
Our goal is to provide quality roofing service at competitive prices using quality warranted products. You can make sure that we will put our two decades worth of experience to work for you. If you are looking for reliable roofing service for your residential property, contact us today to schedule a free on-site inspection. We'd be happy to do it!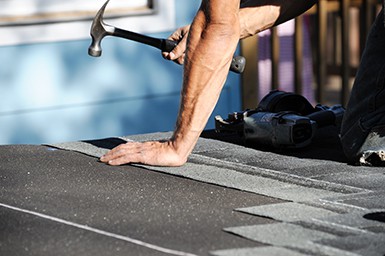 Roof Repair
While roof repairs are most commonly followed a storm, things like age, poor maintenance and poor installation can create the perfect conditions for leaks and wear and tear. We often see low-hanging tree branches that have scraped against the surface over time causing degranulation on asphalt shingle roofs.
Untrimmed trees are also prone to shedding heavy limbs and branches during high winds and erratic weather. This can cause damage to nearly any roof type, including punctures.
Whether you have a leak or suspect an issue, we perform a thorough roof assessment to determine the extent of the problem. Many things can be corrected with simple roof repairs like replacing missing materials, correcting damaged flashing and tightening fasteners.
Other roof repair services are more extensive and require us to remove existing materials to get to the underlayment and wood decking and perform more invasive work. Depending on how widespread the damage is, repairs may not be an adequate solution. In this case, we may suggest roof replacement.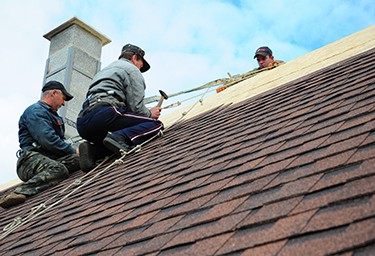 Roof Replacement
With any roofing service call, we evaluate the condition of the entire roofing system to identify the extent of the damage. While we make minor roof repairs when possible, there comes a point in the lifespan of every surface when roof replacement becomes necessary. We try to make this process as easy, affordable and transparent as possible.
Once the decision for roof replacement becomes clear, the biggest choice you will have to make is what roofing material you want installed. From there, we can help narrow it down to a color, size, shape and style within your budget. A new roof can help give your home curb appeal and raise its value significantly.
Roof replacement requires drastically different methods for different roof types. Our experience in the various types and working with highly respected brands allows us to replace your roof with one that lasts for years and is done within the manufacturer guidelines to protect your warranty. Call us today for a free estimate.
Residential roofing specialists
Shingle, flat roofing service
(817) 581-4929
We service residential roofing in Dallas, Fort Worth, Irving, Garland, Richardson, Mesquite, Grand Prairie and throughout Texas.