If you need a roof repair in Dallas/Fort Worth, you can't wait long, and we won't make you. When our roofing contractors are called out to fix a leaking roof, we make sure it is resolved and will keep your property dry for another 10 years or more. With cost-effective commercial roofing services that keep your employees or tenants and your CFO happy, we've got you covered!
Stop that leak fast
Let our pros handle it for good
Call (817) 581-4929
We perform all types of commercial roof repair, including:
Flat roof repair
Metal roof repair
EPDM roofing
Tar and gravel roofs
Single-ply roofing
Built-up roofing
Modified bitumen roofs
TPO/PVC roofs
Flat Roof Repair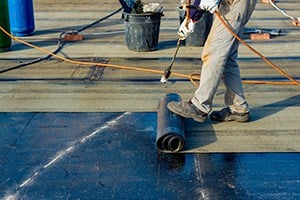 Is your flat roof made from built-up roofing ("BUR," also called tar and gravel), asphalt, or single-ply roofing? Not to worry - our staff of skilled roofers is well-experienced with each of them. With over 20 years of experience, you're dealing with true professionals who have worked on thousands of commercial roofs in the region and are equipped to deal with the specific problems your roof is being affected by.
Since low-sloped or flat roofs have such a propensity toward ponding, more so than any other roof type, they can have a lot of issues as a result.
Our roofers have found that, in many cases, we can help to make your flat roof like new again through the use of a roof coating. What this does is add a new layer across the entire thing, that makes it much stronger and more resilient than it has been in a long time. These treatments are known to add 10 years (or more) to the usability of your roof. Imagine not having to deal with roof repair for the next decade! Not to mention, knowing you won't have to replace your roof for years to come!
Allow our team of expert roofers to take a look at your flat roof and see how we can help. Our on-site estimates are always free of charge.
Metal Roofing Repairs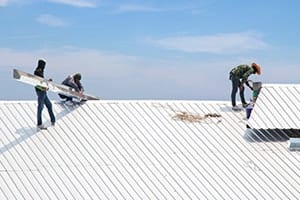 Metal roofs are known for being one of the sturdiest and most long-lasting roof types on the market today. But after a storm, yours might be dented from hail, torn form debris, or leaking from wear and tear.
You want roof repair that is going to keep your property protected, get done quickly with minimal interruption, and not be unreasonably priced. With a roof coating, we can give new life and a whole new level of protection to your metal roof, keeping it from an early retirement. Reach out to find out if your roof could benefit from this energy efficient and cost-effective treatment.
As a fully licensed and insured roofing contractor, we also offer incredible warranties on our repairs that will ensure you maintain that level of protection for the next 10, 15 or 20 years to come.
Specialists in metal & flat roof repair
Ready to come to your aid
Call (817) 581-4929
We provide commercial roof repair in Dallas, Fort Worth, Irving, Garland, Richardson, Mesquite, Grand Prairie and throughout Texas.