Single ply roofing is a great option for commercial properties looking for a cost-effective option to get a useable life of up to 20 years or more out of their roof. As an A+ rated commercial roofing contractor in Fort Worth, we have been repairing and replacing single ply roofs for more than two decades, and are always "Happy To Do It!" Let us know what help you need with your roof, and we'll be glad to get you a free on-site estimate for the project.
Roof repair and replacements
Energy efficient options
Call (817) 581-4929
Commercial Single Ply Systems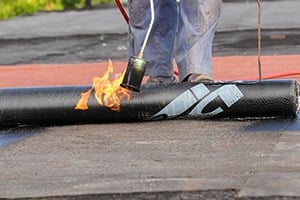 Single ply roofing is an alternative to built-up roofing, or BUR, and as the name implies, is applied in a single layer atop the substrate, insulation and cover board. Built-up roofing is applied in many layers, building up as it goes, hence its name.
The main types of single ply roofing are TPO, PVC, and EPDM, sometimes called a rubber roof. Though the chemical makeup is different between them, the positives between the two are fairly similar, and each has its given benefits.
One of the major differences between these two types of single ply roofing is one step of the installation process. When it comes time to attach the membrane (roofing material) to the core board, it can be fastened, attached with an adhesive, or ballasted. With EPDM, the seams of the membrane are joined with special tape. With TPO or PVC roofs, the seams are actually melted and fused together with a hot air gun.
Not sure which type would be right for your facility? Not a problem. With over 20 years of experience, our team of roofing contractors are experts at commercial roofing. We are educated, experienced and ready to help you find the perfect fit for your property's aesthetic, needs, and budget.
Benefits of Single Ply Roofs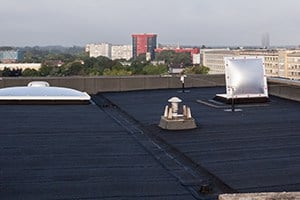 There are many benefits to choosing a single ply roof. Some of the most notable are:
Price point - Single ply roofing is more affordable than some other types.
Energy efficient - Choosing a TPO roof that is white can mean your roof starts to work for you, deflecting rays from the sun, and keeping your building cooler. This means less AC is needed to keep the place comfortable, and your energy costs can go down significantly.
Fire resistant - These can be manufactured with fire retardant chemicals when created. This allows them to achieve a rating of UL Class A fire resistance.
It's proven - In use for more than 60 years in the US. There are no surprises as to its safety or capabilities.
Lightweight - These systems don't put a huge strain on your structure.
Feel free to ask us about whether a single ply roof or a built-up roof would be better for your needs!
Get a free on-site estimate on your new roof
Schedule today
Call (817) 581-4929
We service single ply roofing in Dallas, Fort Worth, Irving, Garland, Richardson, Mesquite, Grand Prairie and throughout Texas.